I installed Arch Linux on an aging Dell XPS 13 today.
Did I plan to do this when I woke up this morning? No, it was an impulsive decision. Was it a sensible way to spend the last Friday of 2022? Also no. Was it the kind of thing that will pay off in the long run through a deeper technical understanding of… something? Again, the answer is no.
Ah, but will it impress people and make them think I am cool?
Oh honey.
No.1
But look…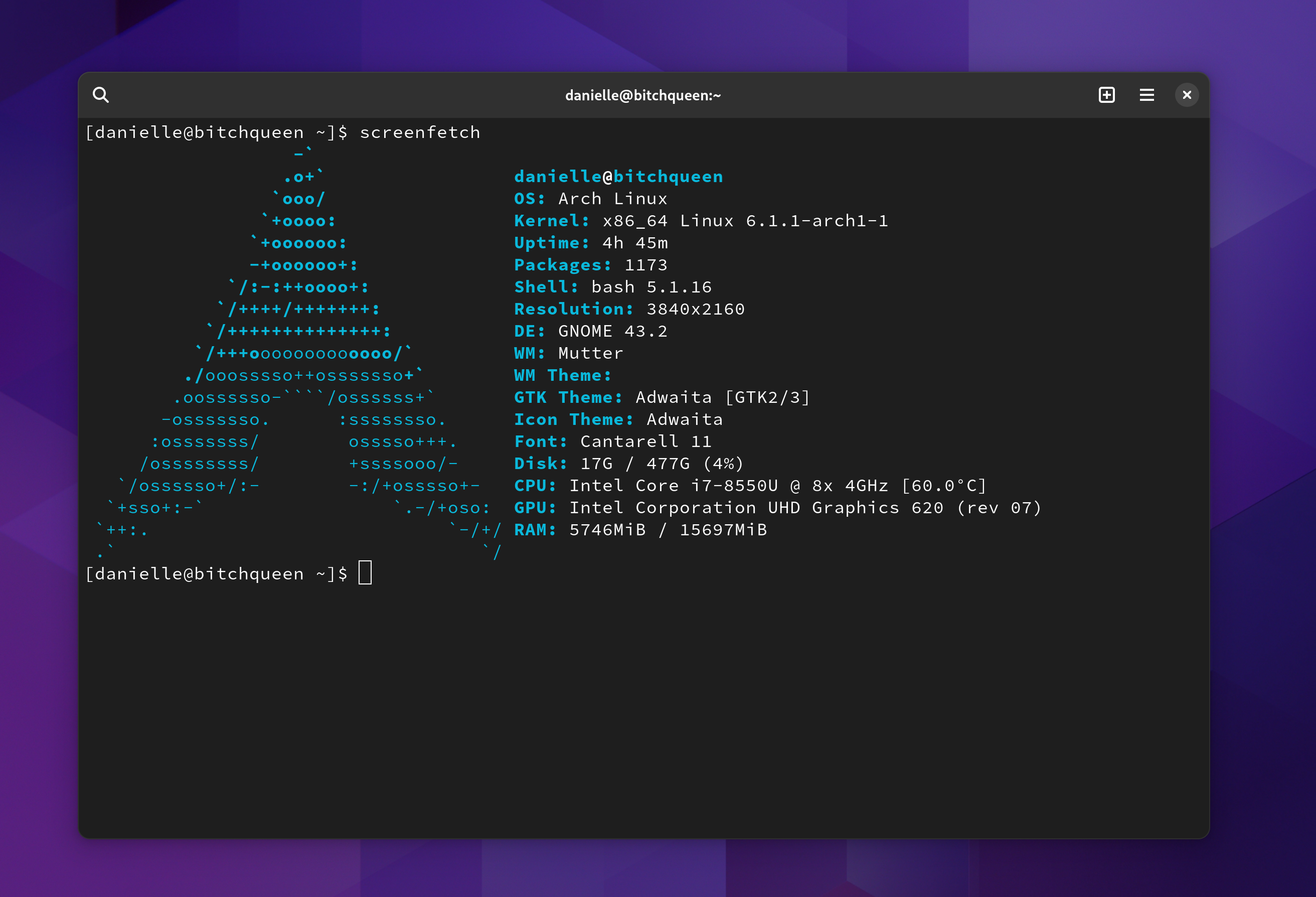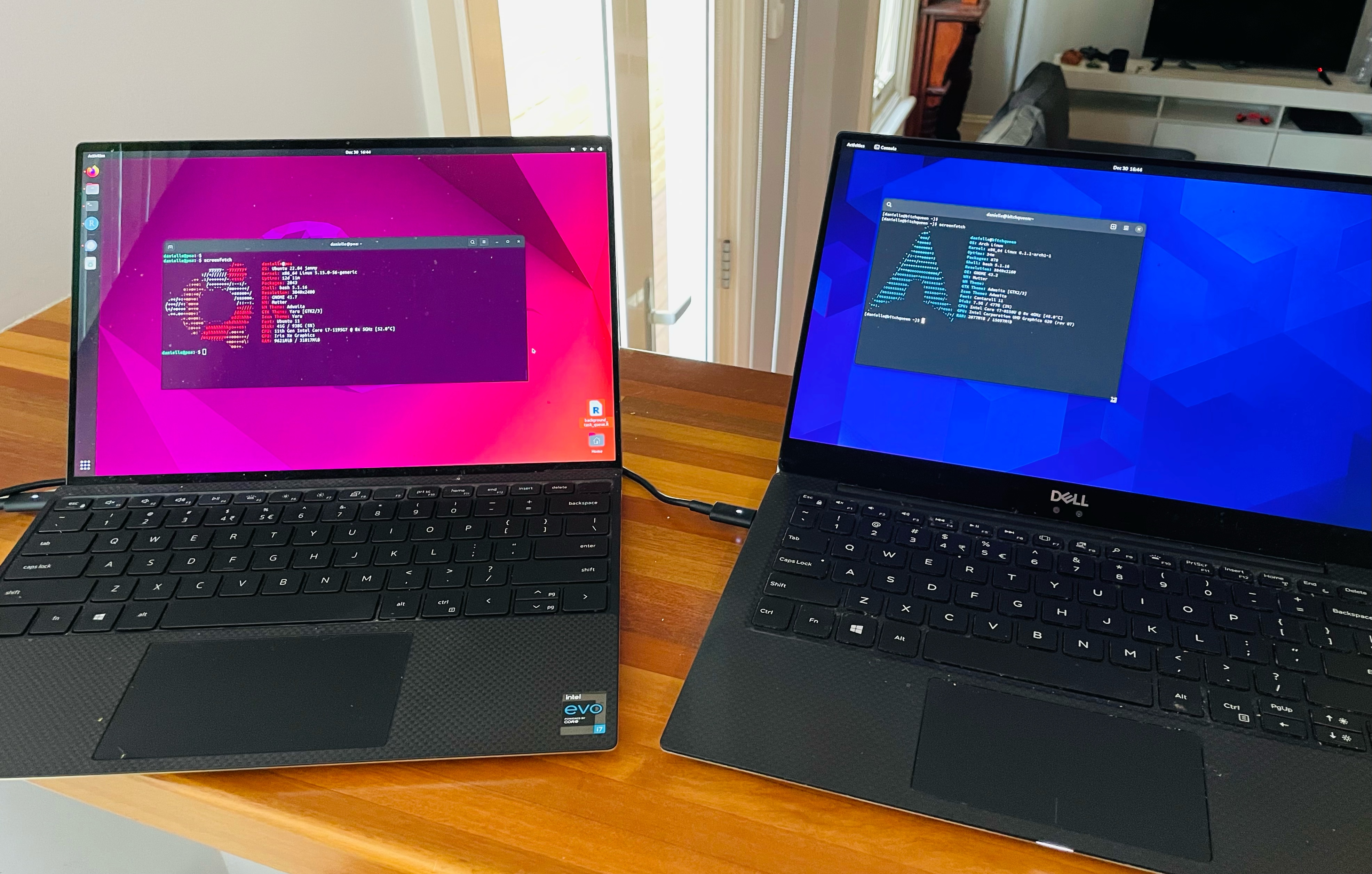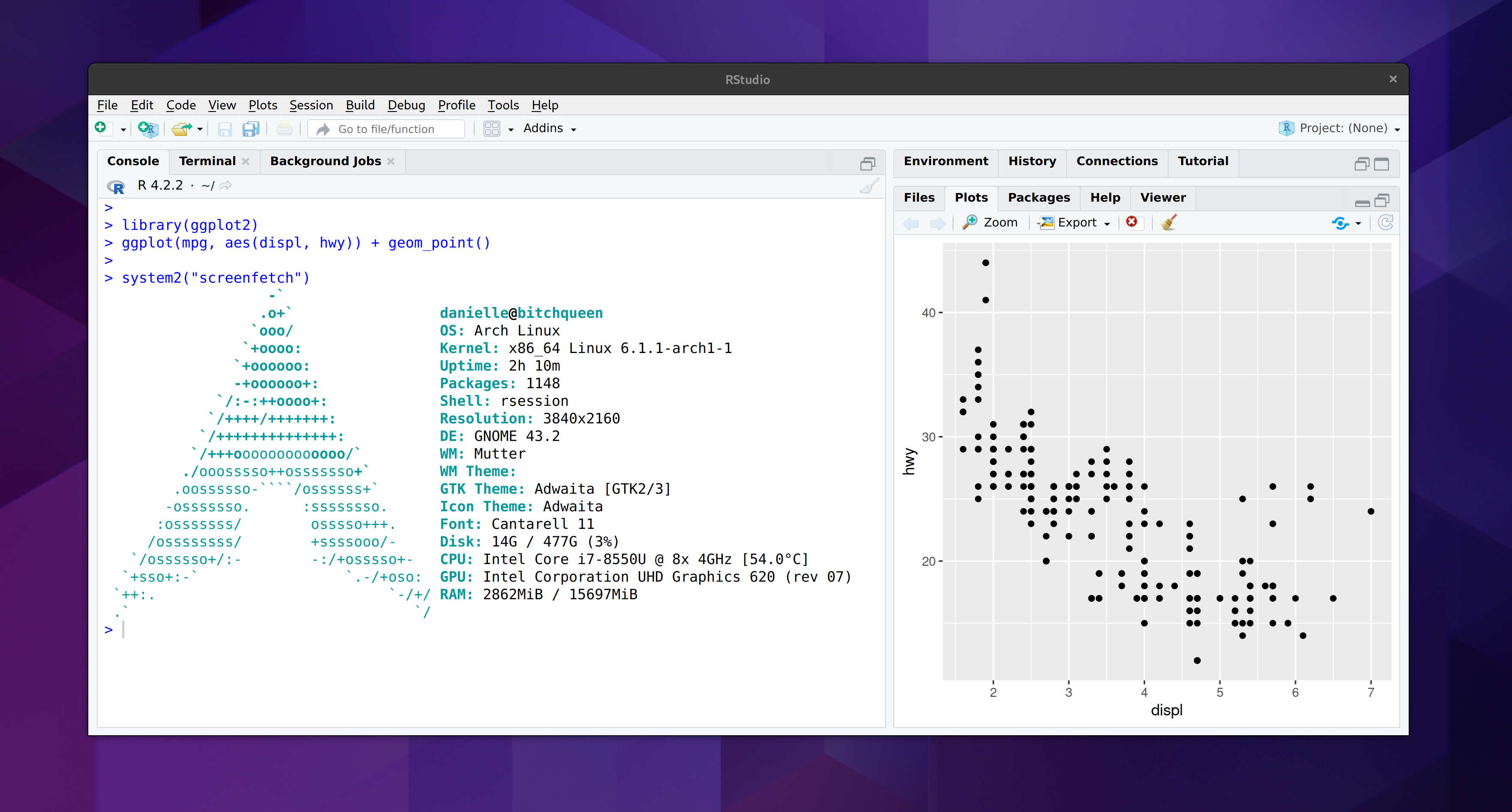 So pretty. So pointless. So fun.
Installing Arch
I have absolutely no intention of writing a "how to install Arch" guide, for many excellent reasons. Top of that list is that I am a complete amateur when it comes to Arch and I have no idea whatsoever what I'm doing. The only reason any of this happened is that I happened to have a spare laptop2 and couldn't think of anything better to do with it. My point is I have no business whatsoever in trying to guide anyone else through the installation process. What I am going to do, however, is jot down my notes to myself on the process. I may need them again…
Moving on…
Setting up R on Arch
Any time I get a new machine set up, my first discretionary task is to make sure that I can do data science work with it (that's a depressingly revealing statement about me). Once upon a time that really meant getting R set up, but I'm a bit more polyglot nowadays (gasp!). Nevertheless, R is my first love so I always start there…
Some of the set up tasks are easy, or at least as easy as anything gets on linux. For example, installing R is "easy", and installing git is "easy". Similarly, if you use VS code as your IDE, that too is "easy". These are all easy tasks because they're officially supported. You can install all three with one command:
sudo

 pacman 

-S

 r git code
That installs the most recent R release, the current git release, and the current VS code release. It's considerably easier than installing on a Ubuntu LTS release, especially for R, to be honest. On Ubuntu there's a lot of messing about trying to get the latest versions. The Arch repositories are up to date, which does simplify matters considerably.
Things become a little trickier when you have to venture outside the official repositories. For example, suppose I want to use RStudio as my IDE. There isn't an Arch package for RStudio, and – to the surprise of nobody – Posit doesn't release one either. However, I'm hardly the first person to want to use RStudio on Arch, so it is equally unsurprising that the Arch community has stepped in to help fill the gap.
In other words, I've reached the point where I have to start installing from the Arch user repository (AUR). This is a community resource, so you have to be a bit more careful in checking that the packages you install from here are good ones, but that's no different to investigating an R package before installing from CRAN or GitHub. It's also really important to read through the AUR guidelines before you start trying to use it, because it talks about the tools you'll need to install first and has a nice walkthrough of the process. So I did that, installed everything from the base-devel group and got started…3
There are a few different user submitted packages for RStudio on the AUR. The one I decided to use was rstudio-desktop-bin, largely because it's a binary4 and because other Arch users seem to like it. It's a multi-step process. First I had to get a copy of the package files. The easiest way is with git:
git

 clone https://aur.archlinux.org/rstudio-desktop-bin.git
The rstudio-desktop-bin folder that I just downloaded contains a PKGBUILD file… opening it in a text editor reveals that it's basically a recipe for building a package. It doesn't actually contain any of the components you need, and in fact for RStudio what you'll notice when you take a peek at the inside is that it's essentially a wrapper telling Arch how to use the .deb binary that Posit releases for Ubuntu/Debian systems.
To build the package I navigate to this folder and call makepkg:
cd

 rstudio-desktop-bin


makepkg

 

-s
The -s flag attempts to synchronise: it will download and install any dependencies, as long as those are official dependencies (I think?). It doesn't install dependencies when those are also packages on the AUR. Those you just have to do manually.
Anyway once makepkg does its job, you end up with a whole lot of new files in that folder. The one that we care most about is the one with the .pkg.tar.zst file extension. That's the one that pacman can install:
sudo

 pacman 

-U

 rstudio-desktop-bin-2022.12.0.353-1-x86_64.pkg.tar.zst
This will install RStudio and… it almost works. When I attempt to open RStudio I get a message in the Rstudio window complaining about a missing library. Digging into the comments on the rstudio-desktop-bin revealed the problem. One of the system dependencies for RStudio is missing from the PKGBUILD file: you have to install openssl-1.1 to make it work. This did the trick for me:
sudo

 pacman 

-s

 openssl-1.1
And that's it. Just like that I have RStudio running on Arch…
… and just like that I felt an immediate need to also get quarto running on Arch so that I could write this blog post on my new Arch box. Quarto is also available on the AUR, and I installed it using the quarto-cli package, following essentially the same process described above. There were no missing dependencies, and everything seems to work fine.
I'm suspicious. Things aren't supposed to work first time. I fully expect my laptop to catch fire simply because I am doing something foolish.
Was it worth it?
Probably not. But I don't care. I had fun. Sometimes we do things because it's useful to do them. Sometimes we do things because we like doing them. It's important to know the difference. This was fun.
Citation
BibTeX citation:
@online{navarro2022,
  author = {Navarro, Danielle},
  title = {Btw {I} Use {Arch} Now},
  date = {2022-12-31},
  url = {https://blog.djnavarro.net/posts/2022-12-31_btw-i-use-arch},
  langid = {en}
}

For attribution, please cite this work as: